I was thrilled and honored when Missy from
Growing Up Geeky
asked me to co-host TAT with her this week. Since the topic is "2012 - The Year in Review" I thought it would be fun to do our family's top 12 for 2012.
***Psssstt*** # 10 is by far the best moment of the year (it also ties for best moment of my life)
1) Well technically this was in 2011 but it sure kicked started a fantastic 2012 for us - on New Year's Eve 2011 we found out that we were in fact expecting a second child. We had some high suspicions days before this but got clear confirmation on New Year's Eve. Such a truly wonderful way to ring in the new year.
Baby W 2.0 is on the way
2) I Went back to work the very beginning of January after being off for 1 year maternity leave. It was extremely hard to leave my sweet baby boy in the care of another. The sitter we found is very nice though. She takes great care of our boy and absolutely loves him. It made the work week a little easier knowing he was in good hands. It was also much easier to resume working knowing I'd be going out on another year's maternity in a mere 7-8 months :)
3) In February we had a pre-natal appointment and were able to hear the heart beat so shortly after we headed home to Nova Scotia to share our exciting news with family and friends. Forrest sported a super cute "I'm going to be a big brother" shirt and that's how we shared the news. All of our family and friends were beyond excited.

4) In March John and I took our very first getaway since before Forrest was born. This was our first overnight trip together in which we were leaving him all night with someone other than his parents. John's mom and dad stayed with him for the night so we knew he was in great hands but still, it as hard for me to leave him for the night. We went to Bangor, Maine and we talked about him pretty much the entire time haha! It was a great, much needed little getaway though and we were grateful they babysat for us and took such good care of our sweet little boy.

5) We spent Easter weekend in my home town of Sydney, Nova Scotia. We had lots of fun celebrating the bunny with our little man and although he was 16 months and didn't really understand, he definitely enjoyed the chocolate and presents - especially since his sweets consumption was pretty minimal at this point.





6) June came and this marked my 30th birthday (Yikes - getting old ;) I was super shocked to find out hubby along with my parents and friends planned a surprised birthday party for me. I was even more shocked considering he told me about this surprise while we were sitting in the hospital at 2am the morning of said party after just hearing they were admitting Forrest for the night due to a violent stomach flu and dehydration. You can read more about this moment when I thought I was on candid camera here.
7) The end of June and beginning of July we spent on our first family vacation as a family of 3. We travelled by car to Boston for about a week. I'd say this was one of my favorite vacations of all time. We toured around Boston checking out all the sites (the Children's Museum, The New England Aquarium, Fenway Park, Quincy Market, etc). Forrest was great to travel with and although we walked pretty much all day every day at 7 months pregnant - I did quite well in the scorching Boston summer heat and kept up to John and Forrest. I also got to meet up with my blogger/e-friend Amy and her family for the first time. That was so great I can't even put it into words. Amy and I have sent thousands of emails to each other over the years but never met in person until this trip. It was great to have conversations face to face and she was just like her emails - super sweet. She has a beautiful family as well.

Blogger/E-friends finally meet =)




8) In July my brother in law got married. John and Forrest were in the wedding. I'd have to say Forrest was the cutest little ring bearer ever sporting a super cute little tuxedo complete with tuxedo Robeez. He walked down the aisle flawlessly at the rehearsal but come the big day got shy with all the people looking at him and my father in law helped him down. It was still super cute though.





9) In August I started my maternity leave. I took a few weeks before my due date to relax and spend some one on one time with my little man who was about to lose his only child status in the coming weeks. Since this was the hottest summer I can remember in a long time, it was nice to spend the last of my pregnancy in the comforts of Forrest's kiddie pool, the beach and cool basement rec-room.


not quite ready to end his wagon ride despite it being a bazillion degrees out and a VERY pregnant momma (like 39weeks pregnant)
he just wasn't too sure what to think about this carousel
first time finger painting


10) September 1st 2012 - Forrest became a big brother. Our sweet little Lilah was born at 3:02am. (birth story)



11) We took a family trip home to Nova Scotia the end of November to introduce Lilah to the family and friends that had not yet met her. It was really great spending time with family and friends and we're thrilled we got to show off our little princess as well ;)

12) This is actually ongoing - I feel that the holidays this year are more fun than ever. Forrest will be 2 on Christmas day and while he doesn't quite get the whole concept of Christmas yet, he is definitely excited about the parades, the lights, the music and of course the big decorated and lit up tree in our living room. He loves to help me bake and we've been taking drives on the weekend evenings to look at the houses lit up and decorated to the nines. He gets so excited that it makes my heart swell. Lilah of course has no idea about any of it but it sure is nice to be celebrating the holidays as a family of four and I am enjoying my daughter's first christmas so far.

Decorating with daddy
helping to decorate gingerbread cookies - yet someone has more fun eating them
say 'cheese'
Sweet Lilah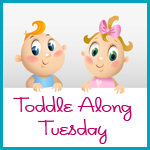 This week's Toddle Along Tuesday topic is
Year in Review
! What big things happened in your family this year? Share some of your favorite photos! There are no rules here, except that you link up a
relevant
post (old or new) rather than your whole blog.